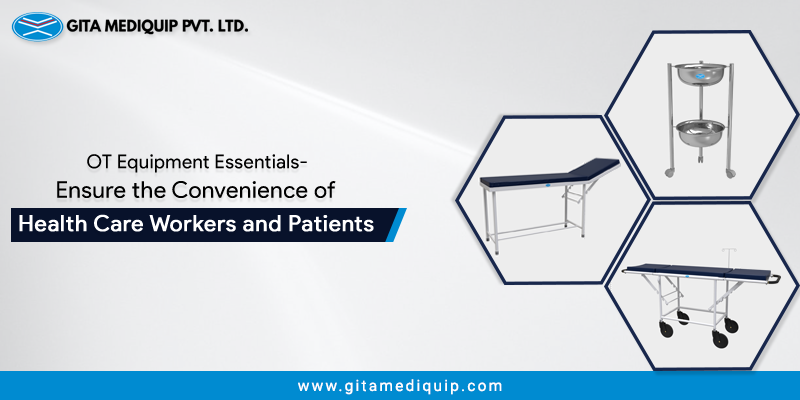 Patients surely require hard-line care and comfort during surgery. Nevertheless, simplifying the surgery implementation for health care workers is equally important. The OT is designed for surgeons and their staff to perform surgical procedures that require time, patience, focus, safety, and quality equipment.
Various pieces of OT equipment are obligatory for use during surgery.
Examination Tables:
During surgery examination couch/table is used to support patients while allowing the surgeons to adjust the position for closer examination of a particular portion or entire body.
Motorized Examination Couch:
These types of examination couches are specifically designed to control the movement of the OT table through an electric motor for a greater mobility experience.
Examination Couch Header:
With flexible headrest adjustment, cabinets, and drawers for surgical equipment and essentials, the examination couch header is a must-have for the OT.
Labour Table:
Specialized for pregnant women these tables consist of hydraulic height adjustments, backrest adjustments, knee crutches adjustments with height, and legend section sliders.
Stretcher:
This OT equipment, also known as Pram is a bed device used for moving patients to the OT with variable height frames, tracks, or skids.
Stretcher on Trolley:
A stretcher trolley is typically a wheeled stretcher bed for an ambulance that is foldable, durable, and adjusted to keep the patient comfortable.
Trolley:
The trolley is generally used in OT to store essential gadgets and patient care items for easy access during surgery.
Monitor Trolley:
The monitor printer, stabilizer, etc. are kept in the monitor trolley and it also comes along with adjustment shelves, lockable drawers, and oxygen cylinder holders.
Crash Cart:
The crash cart trolley comes in a tabular model with wheels consisting of molded drawers, utility containers, handout bins to transport/dispense equipment/medication at the site of medical surgery emergency.
Instrument Trolley:
This wheeled trolley is meant to carry medicines and crucial surgery instruments for health care workers.
ECG Trolley:
To enable portability for ECG machines a wheeled cart trolley is available for the health care workers to monitor the patient easily in the OT.
Ward Dressing Trolley:
Keeping on top, patients' hygiene, ward dressing trolley is one of the best OT equipment for the health care specialists.
Wash Basin Stand:
For the surgeons and their staff members portable wash basin stand comes in handy during surgery for cleaning the medical equipment.
Surgical Instrument Cabinet:
It is typically a rack used in the OT during surgery to hold surgical instruments with multiple shelves and adjustable compartments.
From surgical equipment to ICU bed, we tailor solutions that add comfort and convenience for patients and health care workers. Be it a gynecology table or regular examination couch we have everything to suit the needs of various medical departments.