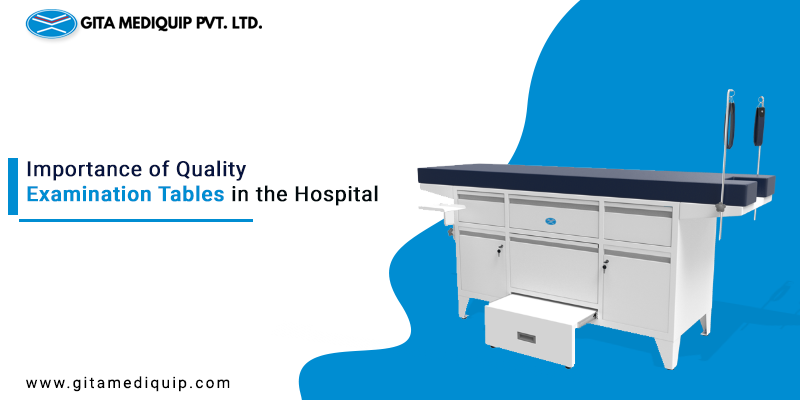 This year has been tough on doctors, nurses, paramedics, hospitals, and even medical students. Everyone in the medical field has been working day in and out serving patients. Before even a patient is brought into the hospital, a check up on the number of available beds and the patient examination table is done. This helps in looking for another hospital, in case one does not have beds available. This pandemic resulted in hospitals being full or running out of staff or equipment.
Regardless of other things, hospitals are required to have quality examination tables. A good quality examination table can help the doctor and hospital staff speed up the treatment procedure. Keep reading to know how and why.
Ensures safety and is mobile-
When a patient is rushed to the hospital, it becomes difficult to make them move from one department to another or even gate to the wards in their condition. An average table weighs approximately 250kg and can carry even an overweight patient with ease and safety. Hence, the hospitals order the top-quality examination table from the hospital manufacturer in India.
Helps doctors treat patients comfortably-
As soon as the patient arrives, they are shifted onto an examination table. Not only does it help in moving around the hospital easily, but also fastens the process of treatment. The latest models have features that help doctors adjust the s-line with a pedal or a switch. The doctor or staff need not spend a lot of time trying to figure out a way to change the positions of the patients. Having a difficult time dealing with the equipment leads to unnecessary chaos.
Hospitals are expected to have quality equipment like the examination tables because there is no time to waste. From the moment the patient is brought in, till they finish the treatment, there isn't time to wait, think, or act slow. Having a good infrastructure lessens the burden, saves time, and is always a good point.
These days, hospitals can get customized hospital furniture, be it the bed or the examination couch. Some examination table comes with counters, while others have additional switch for CPR or SOS buttons.
While there are different types of examination tables for different purposes, an ideal hospital must have them all. When we talk about health, there shouldn't be any compromise with the quality of the equipment or hospital furniture. Gita Mediquip is one of the most preferred hospital bed suppliers in India.  We manufacture all sorts of hospital furniture to ease and enhance the services provided by medical professionals. You can reach out to us with any queries related to hospital furniture or patient mobility equipment.